BayLUG members Chris C. and family attended, and provided us with this report.
The later half of 2023 has been a very busy year for the LEGOLAND Discovery Center Bay Area with a number of updates, changes, new experiences and special events. Historically over the first few years of the Discovery Center's opening, there hasn't been a lot of updates to the experience other than the occasional seasonal themed minifig hunt or special classes. The second half of 2023 however introduced us to a few major changes to the location experiences.
Dreamzzz
In summer 2023 LEGO kicked off a new line of LEGO branded Dreamzzz. This line not only launched a series of new sets but also was aligned with a new TV show that aired on Netflix, Hulu and many other streaming services to get as much awareness as possible. In addition, locations like the Discovery Center had special events and new experiences. The first new experience that was added this summer was the Dreamzzz 4D movie experience. My kids were hyped about the show and the sets and they loved them but when it came to the 4D show it was really lacking and uninteresting. There are very few lines in the show (only the character names) and there is no clear story line just kids having a dance party that gets attacked. This show is probably the least interesting out of all of the 4D experiences. This is still worth seeing but is not worth the hype and was disappointing. Given how interesting the TV show is, it is a bit disappointing to see this show as it lacks in creativity but be sure to check out the show on Netflix as its well worth the watch. The kids were disappointed with this one and we would rate this 4D show 4/10
Dots
Also this summer the Discovery Center added a new Dots experience where attendees can design dots patches to be displayed at the center on a totem pole style display which gets reset every few days. In addition, kids can take an 8×8 plate home with a dots design that they make at the center. This is a great time burner and is a nice addition to the brick playing areas as it's a different approach to play and creativity. The kids really enjoyed this and this would be rated at an 8/10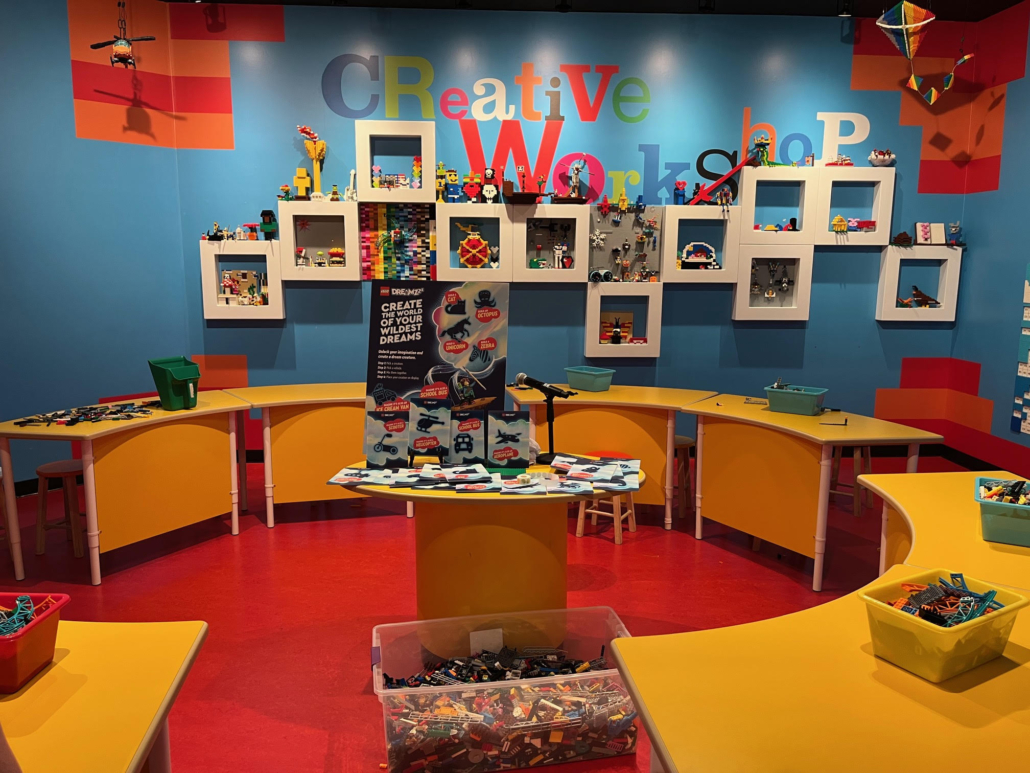 Other Updates
There have been a number of other updates over the last few months and here is a short breakdown with ratings:
Dreamzzz branding and photo ops (5/10)
New LEGO Friends life-size build displays (7/10)
Removal of less used brick pits for giant fuzzy bricks (2/10)
New activity workshop builds and events (8/10)
New Minifig search and find events and buttons (7/10)
Brick Built Board games (checkers / tik-tak-toe etc.) (6/10)
Giant working roller coaster display (9/10)
More active minifig trading (10/10) the kids love this!
Sales and Tickets
For those of you who have not yet visited the Discovery Center we would highly recommend it. There are special events every few months and fun activities for kids. For those of you older fans their Adult Nights are also fun activities where you can compete in build events and experience other scheduled activities in addition to experiencing the other offerings of the center. We have season passes for the family as the kids love the fun activities and events and if you act quick you may be able to get some sweet discounts with their Black Friday and Cyber Monday deals so be sure to check around for those discounts or on the back of your most recent poly bags 😊
https://baylug.org/wp-content/uploads/2021/03/Baylug_comp-Converted.png
0
0
Russell Clark
https://baylug.org/wp-content/uploads/2021/03/Baylug_comp-Converted.png
Russell Clark
2023-11-29 12:20:09
2023-11-29 12:20:09
LEGOLAND Discovery Center Bay Area H2 2023 Review